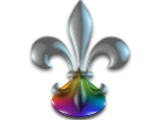 More Scenic Vistas
---
...this time snow-capped!
Colorado is probably the most beautiful in the winter. Snowy mountains. Snowy fields. Frozen rivers and lakes. It is truly a winter paradise. TinCup is no exception. However...

With an elevation reaching toward 10.5K feet, TinCup is not very accessible in the winter. In fact, it's usually not very accessible from about mid-November until late May or early June. The pass from Buena Vista is usually not even open until sometime in June. On top of that, the road to TinCup is not plowed. During the winter, TinCup is only accessible by snowmobile.